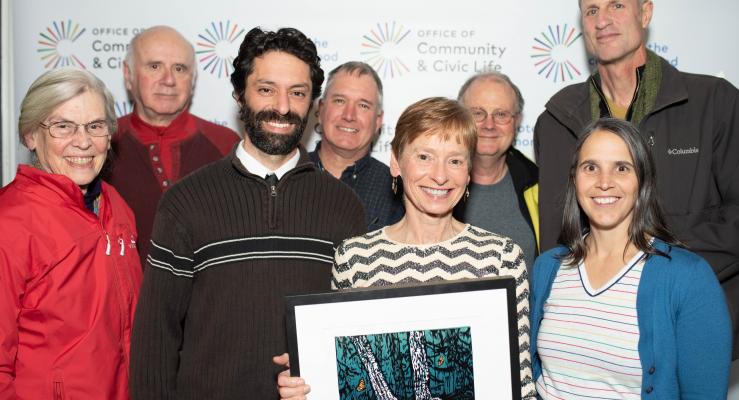 We're excited to report our own board secretary, Robin Vesey, was recently recognized for her 22+ years of stewardship and dedication to Terwilliger Parkway and the city of Portland with the Sandy Diedrich Environmental Stewardship Award.
Robin is a retired OHSU Oncology Nurse who treated patients with cancer and hematology diagnoses. Living in southwest Portland with her husband Jack, Robin learned her love of running in Terwilliger's forested Parkway. Desiring to give back to this public park that has given her so much, she started volunteering with the Friends of Terwilliger in 1996. Through her twenty-two years of amazing dedication and outstanding environmental restoration efforts to the Terwilliger Parkway — Robin scheduled and hosted over 190 community restoration work parties with over 2200 volunteers contributing over 9,035 volunteer hours of restoration efforts along the Terwilliger Parkway. While hosting these community restoration work parties, Ms. Vesey has worked with numerous diverse groups from our community to achieve these environmental restoration efforts.
The groups that Robin has partnered with exemplify the 2018 Spirit of Portland theme "One City, Many Communities". These include: Multnomah County's Alternative Community Service (ACS) program, Lewis and Clark College, Portland State University, Chemeketa Community College, PECI, Univ. of Portland, Trust for Public Land, Umpqua Bank, Fred Meyer, Cub Scouts of Greater Portland, Veterans Administration, OHSU, Hands on Portland, and SOLV.

Though Robin's goal of complete erradication of English Ivy and other invasive non-native plants along the Terwilliger Parkway has not been achieved, she continues to be the driving force behind the environmental restoration of this century old Portland city park.
The slide show can be found here: https://www.youtube.com/watch?v=R_7cU9h43ek