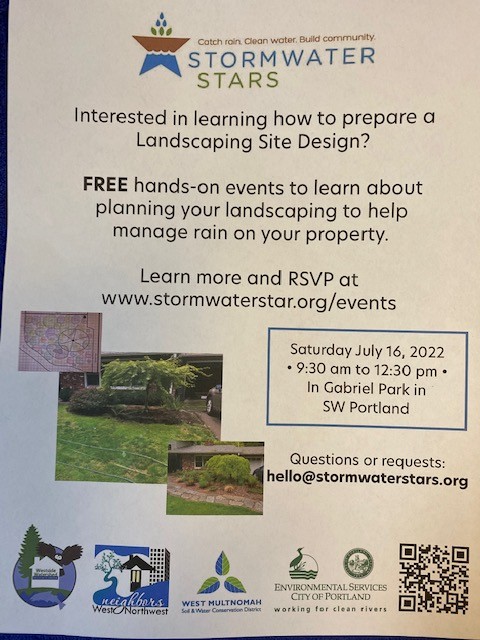 ---
Interested in learning how to prepare a Landscaping Site Design?
FREE hands-on events to learn about planning your landscaping to help manage rain on your property.
Learn more and RSVP at: https://www.stormwaterstars.org/events
Event Details
The Stormwater Stars program is excited to bring you a workshop that is focused on Site Design. The workshop will provide hands on practice for analyzing and designing landscape spaces. Before this workshop, you will be asked to watch two webinar recordings from the Tualatin Soil & Water Conservation District YouTube Channel, Naturescaping: Basics Virtual Workshop and Naturescaping: Site Design. The workshop is intended to build upon the webinars.

During the workshop, landscape designer Lora Price will help us practice how to draw a site plan and analyze a site. We will also work in small groups to practice site design on a base map that will be provided. The workshop is designed to be interactive so that we can all share and learn together.
Limited Space: Workshop size will be limited to 12 participants, so please register soon to secure your spot!
Location The workshop will be held outside at a location within Gabriel Park in SW Portland (exact location to be provided upon registration).
Date Jul 16, 2022
Time 09:30 AM - 12:30 PM