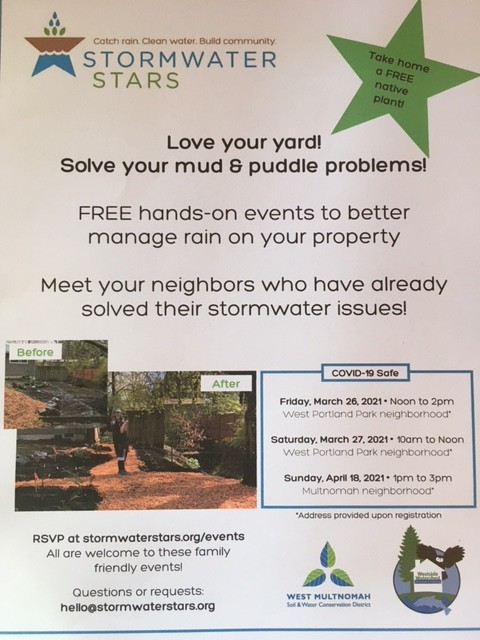 ---
Stormwater Stars workshops provide ideas on how to manage rain that falls around the spaces where you live, work, and play. You'll receive an overview of different ways to handle stormwater issues, and get plenty of hands-on practice in restoring soils, naturescaping with native plants, creating porous pathways, and more!
Event Details
FREE Stormwater Stars Workshops*
Friday, March 26, Noon - 2pm in West Portland Park neighborhood
Saturday, March 27, 10am - Noon in West Portland Park neighborhood
Sunday, April 18, 1pm - 3pm in Multnomah neighborhood
*Addresses provided upon registration
All workshop attendees will receive a free native plant as a thank you for participating in the workshop. As a health safety precaution, workshop size is limited to 10 participants, so sign up soon to secure your spot.
Pre-registration is required. You can learn more and sign up at www.stormwaterstars.org/events. For questions, email hello@stormwaterstars.org or call 503-823-2862.
Stormwater Stars is a program of Neighbors West Northwest and the Westside Watershed Resource Center, in partnership with and funded by generous contributions from West Multnomah Soil and Water Conservation District and City of Portland Bureau of Environmental Services.
¡Taller Gratis!
Viernes, 26 de marzo, mediodía - 2pm, en el barrio de West Portland Park
Sábado, 27 de marzo, 10am - mediodía, en el barrio de West Portland Park
Domingo, 18 de abril, 1pm - 3pm en el barrio de Multnomah
Stormwater Stars es una programa que ofrece ideas practicas sobre la lluvia abundante. Cosas que podemos hacer en nuestras casas: Quitar cesped
· Mejorar la tierra
· Plantas nativas
· Caminos permeables
· Reducir erosion
¡Todos son bienvenitos a este evento! Para más información o ayuda fisica, cultural o tecnología: hello@stormwaterstars.org 503-823-2862

Registrate: hello@stormwaterstars.org
Location Location will be sent once you're registered!
Date Mar 26, 2021
Time 12:00 PM - 02:00 PM