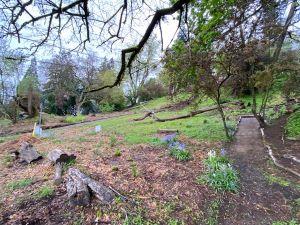 Unifying Theme for Destination Viewpoints between Hamilton Street and Lowell Lane
As we develop the Walpole Garden and its related app-based guides to its Oregon native plants illustrated by 19th century artists such as Frederick Walpole, we hope to extend this effort into the adjacent sunny Hamilton Street Playground area to the south and the heavily forested Eagle Point to the north.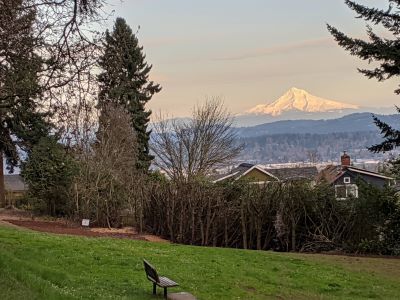 From the adjacent sunny Hamilton Playground to the heavily forested Eagle Point nature paths, these areas provide additional microclimates, while the Hamilton Playground Park area provides an opportunity to provide native plant learning to children and families using the playground.
The Walpole Garden is the central segment of a short stretch of Terwilliger Parkway with several year-round viewpoints of the Willamette Valley and Mt Hood, from south to north: Hamilton Playground, Walpole Garden, and Eagle Point.
We plan to make the Walpole Garden along Hamilton Terrace as an attractive destination with viewpoint seating, a labyrinth, a pollinator garden and instructional native plantings with app-based guides. PP&R is currently developing nature trails and the viewpoint at Eagle Point and has long
maintained the open grass area surrounding the Hamilton Playground. These sites individually offer unique spaces for Portlanders to enjoy Terwilliger Parkway as a destination.