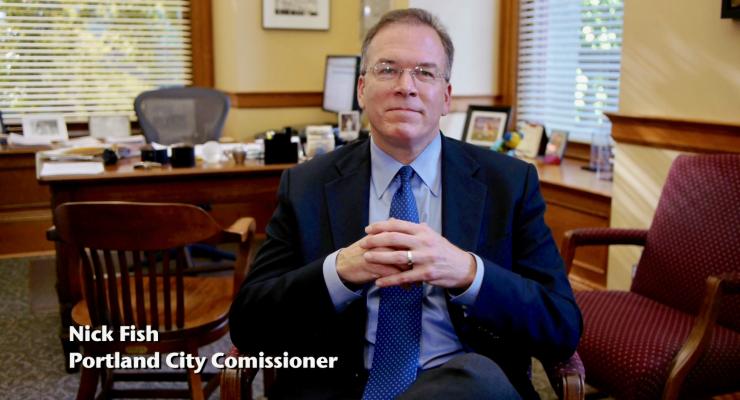 A Lasting Tribute to Nick Fish


Here's how we can continue to remember and honor Portland Commissioner Nick Fish.

A memorial service was held at Portland State University February 16th and attended by hundreds of friends and supporters, who spilled over into adjacent rooms when the large ballroom filled to capacity. It was a touching and telling tribute to one of Portland's gentle "giants" who worked behind the cameras and newsreels, as much as in front of them, to make life a little easier for all of us. We're all better for having known and worked with Nick.

Twice the City of Portland Commissioner in charge of Portland Parks and Recreation, Nick first worked with Friends of Terwilliger (FOT) in 2011 as we prepared for the Terwilliger Parkway Centennial Celebration. (This photo was taken during filming of our centennial video by Peter DeCrescenzo.) He lent his hand and the expertise of his staff to help us orchestrate 7 events over a 3-day weekend in July 2012 including the unveiling of the Terwilliger Parkway gateway sign at the northern-most entrance to this over 100-acre linear park. While we had some anxiety in the early days about bringing him up to speed regarding this natural area, we shouldn't have worried. Nick "got it." He thoroughly embraced the idea of protecting the natural character and function of this wildlife corridor and supported purchasing additional land to add to the Parkway. Over the past several years we identified and purchased over 4 additional acres. Terwilliger Parkway is bigger than ever, and we thank Nick Fish for being a part of this.
Here's how you can still pay tribute to his memory:

1. Plant a tree, shrub or other native plant in your yard honoring Nick Fish.
2. Donate to the Nick Fish Memorial Fund for Leadership: https://giving.psuf.org/nickfish or by mail: Portland State University (PSU) Foundation, the Nick Fish Memorial Fund for Leadership PO Box 243 Portland, OR 97207-0243. This memorial fund established in Nick's honor will support students enrolled in PSU's Hatfield School of Government.