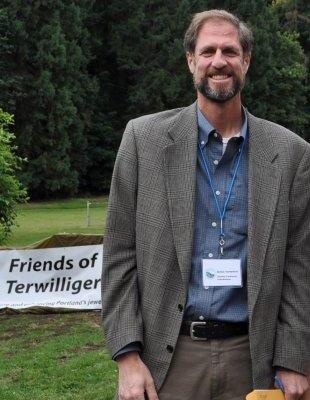 Board Member Introductions: Meet Anton Vetterlein
Say Hello to Friends of Terwilliger's dedicated president Anton Vetterlein. Anton has contributed hundreds of volunteer hours to benefit Terwilliger Parkway and Portland's natural landscapes. A graduate of University of Oregon's architectural school, he has an eye for design and the tenacity needed to keep the city adhering to the Terwilliger Parkway design guidelines.
Anton Vetterlein, Friends of Terwilliger's President, is a native of SW Portland and became involved with Friends of Terwilliger shortly after he bought a house off Terwilliger Parkway in the mid-Nineteen Nineties. He is a residential designer who graduated from the University of Oregon School of Architecture. He feels that Friends of Terwilliger is a good outlet for his interests in landscape design, urban planning, and natural history. "I find the idea of a 'linear park' connecting downtown Portland to the hills, neighborhoods, and parks beyond very compelling. The kinetic experience of moving through such varied environments distinguishes Terwilliger from most other parks in Portland." Outdoor adventure is Anton's passion, whether hiking or boating or skiing in spectacular locations.