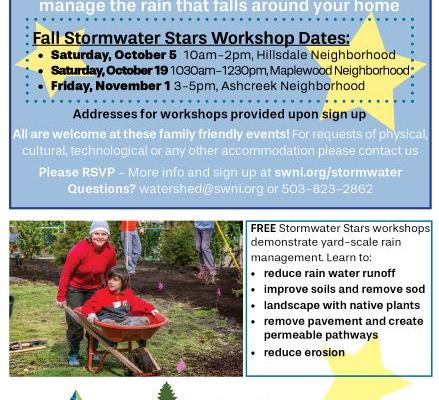 Free Workshops!

Join your neighbors to learn the best ways to manage the rain that falls around your home. And we've had a bunch of rain lately!
Fall Stormwater Stars Workshop Dates:
—Saturday, October 5th 10am-2pm, Hillsdale Neighborhood
—Saturday, October 19th 10:30am-12:30 pm, Maplewood Neighborhood
—Friday, November 1st 3-5 pm Ashcreek Neighborhood
Addresses for workshops provided upon sign up. Please RSVP/more info:

Questions? or 503-823-2862
¡Taller Gratis!

Sabado, 5 de octubre, 10am-2pm, en el barrio de Hillsdale
Sabado, 19 de octubre, 1030am-1230pm, en el barrio de Multnomah
Viernes, 1 de noviembre, 3-5pm, en el barrio de Bridlemile
Stormwater Stars es una programa que ofrece ideas practicas sobre la lluvia abundante. Cosas que podemos hacer en nuestras casas:
· Quitar cesped
· Mejorar la tierra
· Plantas nativas
· Caminos permeables
· Reducir erosion
¡Todos son bienvenitos a este evento! Para más información o ayuda fisica, cultural o tecnología: or 503-823-2862
Registrate: swni.org/stormwater