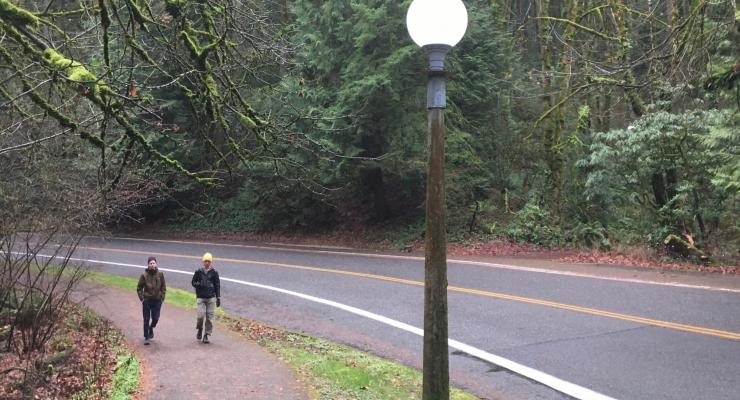 Have You Noticed the New Terwilliger Streetlights?
The Portland Bureau of Transportation has largely completed the installation of new LED light fixtures on the light poles along Terwilliger Parkway between Duniway Park and Capitol Hwy. The change is notable!
LEDs are a whiter, and some say harsher, quality of light than the "warmer" light of the old sodium vapor light fixtures. They are also much more energy efficient which is why the city has been changing over all its street lighting to LED. In the process of converting to LED fixtures PBOT has also made them brighter to meet current street lighting standards. As a result they seem much brighter and noticeable.
You will also notice that the new lights are round globes and are more distinctive than the old contemporary lamps. When FOT learned a few years back that the city would be changing the fixtures we pushed for a return to the historic round globes that were original to the parkway when it opened in 1914. The FOT logo, created in 2012, shows the light poles with the historic round globes on them. We think they give the parkway a distinctiveness that marks it as a special place and ties it all together from one end to the other. See our article from last year for more information about our work on the streetlights: http://terwilligerfriends.org/News/article/terwilligers-streetlights