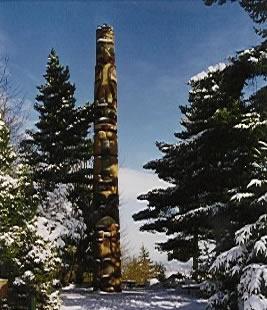 History of the Terwilliger Parkway Totem Pole
What does the Totem Pole at Elk Point, within the Terwilliger Parkway, have in common with the 1959 Oregon's Centennial Celebration, Operation Deep Freeze, New Zealand, Antarctica, The Oregon Zoo and John F. Kennedy?
Why is there a Totem Pole at the Elk Point viewpoint on Terwilliger next to the Chart House restaurant (former Hillvilla) given the indigenous people of the Pacific Northwest Coast, the Haida, were not from the Portland area?
Find out in our next fall newsletter. Learn about this interesting local landmark and the history connected with this prized part of Portland's public art collection managed by the Regional Arts & Culture Council (RACC).