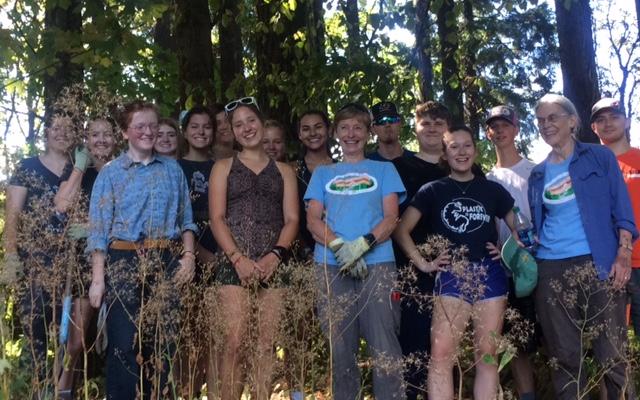 Lewis & Clark College Students "Groom" Eagle Point
Students from Lewis & Clark College, as part of their New Student Orientation (NSO) Service Day, helped Friends of Terwilliger "groom" Eagle Point in preparation for the upcoming Harvest Moon Social September 14th. Check out the before and after photos!

Many thanks to the students and staff from Lewis & Clark College who volunteered their time to help Friends of Terwilliger prepare for our upcoming Harvest Moon Social. Fourteen energetic and hard-working students helped us re-position rock left over from a past retaining wall rehab a few years ago here at Eagle Point. They also got out the pic axes, shovels, and rakes and helped moved a hill of compacted dirt. Of course there were the usual non-native invasives, like ivy and blackberries, to be removed as well. All in all a very successful day and Eagle Point looks better than ever. Check out the photos here!
And don't forget to join us September 14th 6:30-8:30 PM for our Harvest Moon Social at Eagle Point!

Articles available for download: