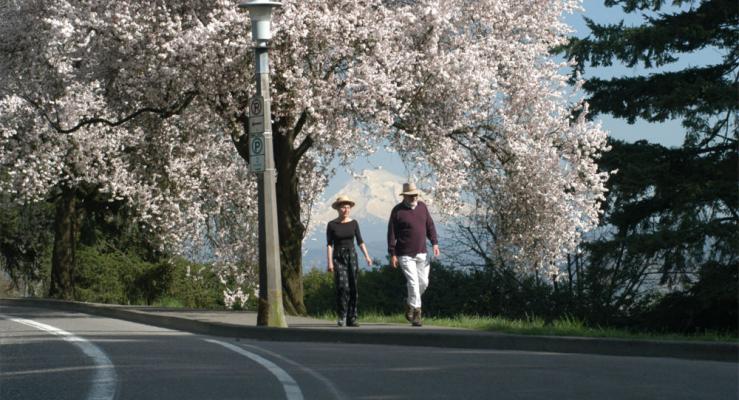 Terwilliger Parkway: Overview
Terwilliger Parkway is a linear park, owned by the City of Portland, that winds south from downtown along the west hills. It consists of the road itself ("Terwilliger Boulevard") and about 100 ft. of land on either side of the road. The Parkway represents Portland's early recognition of the value of green spaces within the city, and now provides recreation and relaxation to its many visitors.
Terwilliger Parkway is part of the 40-Mile Loop trail system, originally conceived by the Olmsted Brothers in their 1903 parks master plan for the City of Portland. In the words of the brothers, "This parkway would be a feature of which the city would justly be proud….the southern pleasure drive should be laid out on gentle grades above the electric railway [now Barbur Blvd.]." The Parkway was opened in 1912 to much fanfare. The Parkway was officially dedicated in 1914, but remained unpaved until 1917. A 1925 City ordinance stated that no development could take place within 200 feet of the Parkway. Three years later, however, the ordinance was amended to allow development with approval from the City Council.
In 1953 the Parkway was designated a "design zone" to preserve its "heavy-wooded nature." In 1983 the City adopted the Terwilliger Parkway Corridor Plan, which till this day provides guidelines for development along the roadway.
In 2012, on the weekend of July 20-22, Portland celebrated the Terwilliger Parkway Centennial. Events included walking and running races, food, hikes, speeches, and a concert. A new North Gateway sign was dedicated. The roadway was closed to vehicles on Sunday, for enjoyment by families, pedestrians, runners and bicyclists.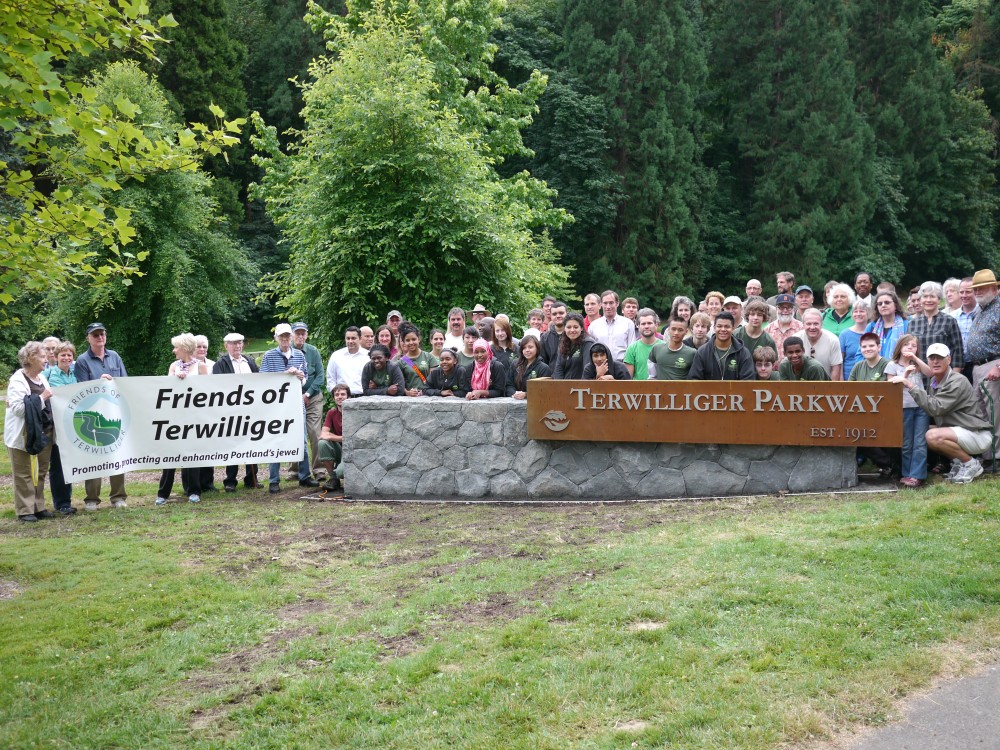 Terwilliger Parkway North Gateway Sign Dedication 7/20/12
Today, you can visit the Parkway at any time of day and see people using it, whether it be for running, cycling, sightseeing, taking a stroll, or sharing company on a park bench. They go there to renew themselves, to cope with the stresses of life, and to benefit from the healing powers of nature.
James Terwilliger (PDF) was one of the first permanent white settlers to come to Portland in the 1840's. He established a blacksmith shop – perhaps even the city's first business -in what is now downtown Portland. Mr. Terwilliger owned 630 acres in the Southwest Hills – where the Parkway is located today.
Terwilliger Parkway is a very safe and family-friendly place! Our Park Rangers remind us, however: "If there is a crime in progress, or if a serious threat or problem is developing, or if there is an emergency, PP&R staff and citizens should call Emergency 9-1-1. • For non-emergency park-related problems or special situations, call the Park Rangers at 503-823-1637. • For dog attacks or other serious situations involving animals, call Multnomah County Animal Control at 503-248-3790 or call Police Non-Emergency at 503-823-3333. • You can also report a park problem online at Park Scan: www.parkscanpdx.org • For park maintenance problems, call 503-823-1600."