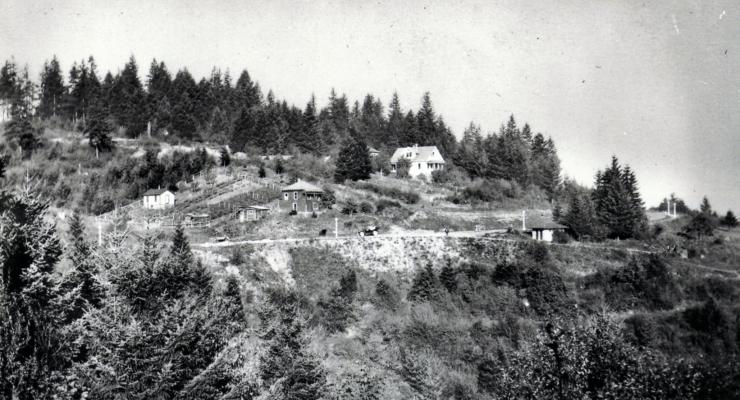 Terwilliger Parkway was not named after "Sideshow Bob" Terwilliger of "The Simpsons" fame; more likely it was the other way around.
The parkway was named after James M. A. Terwilliger, whose heirs donated a critical piece of land that was catalytic in pushing the proposed parkway to reality. James was one of Portland's earliest settlers and, with his wife Philenda, had a one square mile land claim that stretched along the west side
of the Willamette River from Marquam Hill to Johns Landing.
James Terwilliger was born in 1809 in New York of Dutch decent. He worked his way westward as a young man and arrived by ox cart in 1845 in what would become Portland with his young family. He helped survey the original land plat and street grid for Portland and built one of the first log homes on 4 lots that he bought from founder Francis Pettygrove near First and Yamhill. Terwilliger worked as a blacksmith in those early years. The California Gold Rush drew him away in 1848 but he returned shortly with a modest amount
of gold dust. In 1850 he purchased a 640-acre land claim in South Portland where he farmed and operated a tannery. The tract was bounded by the Willamette River on the east and stretched a mile west up to near present day Fairmount Blvd. and Hillsdale village. The north boundary is now defined by SW Lowell St. and the southern by Pendleton St. A concrete and brass survey monument marking the northwest corner can be found in Marquam Nature Park near the top of the Towhee Trail.
The Terwilliger family built a house in 1869 in the vicinity of SW Macadam Ave. and Richardson St. in the present day John's Landing area.1 James "platted his claim and began methodically selling off the land, unaffected by speculative pressures…"5 Perhaps the earliest of these plats was the Portland Homestead plat in 1871, centered now around SW
Barbur Blvd. and Hamilton St.
James Terwilliger died in 1892 at 83 years of age. In 1909 his heirs – "desiring to honor the memory of this worthy pioneer ancestor and benefactor"3 – deeded a 200 foot wide by 1 mile long strip of land for the parkway proposed by the Olmsted Brothers in their 1903 plan for Portland parks. That section of parkway runs south from SW Hamilton St. to SW Westwood Dr. (at Elk Point.)
4 It was soon matched by another major land donation from the Oregon Railway and Navigation Co. for the northern section that allowed parkway construction to begin in 1912. More on the interesting history of the ORNC land donation will appear in a future addition of this newsletter.

References
1. A History of South Portland; Stephen Leflar; 2010
2. An Illustrated History of The State of Oregon; Rev. H.K. Hines; 1893
3. The Oregonian, July 10, 1912
4. Terwilliger Parkway Inventory; Portland Bureau of Planning; 1982
5. Merchants, Money, and Power; E. Kimbark MacColl; 1988
Portrait from Portland, Oregon. Its History and Builders in Connection with the Antecedent
Explorations . . .; Joseph Gaston, 1911