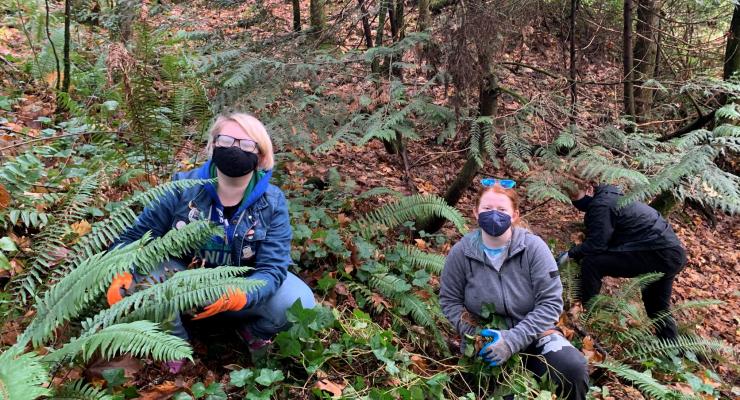 2021 No Ivy Day: The Ivy is Scared!!
This year marked the 18th year of No Ivy Day, an annual event put on by Portland Parks and Recreation, to rid our natural areas and parks of invasive ivy. Friends of Terwilliger was a co-sponsor.

Thanks to all our volunteers who came out to help us rid Historic Terwilliger Parkway of that darn ivy! Though our volunteer numbers were limited this year due to our need for Covid social distancing, we still made a huge effort to save our trees and native plants from the ivy invasion and give them some "breathing room!" Check out the stats here: https://www.portland.gov/parks/nas/events/2021/11/20/no-ivy-day-2021
The No Ivy League, and later No Ivy Day, was started by the late Sandy Diedrich in 1994. Sandy was the ultimate ivy hater and a Portland Parks & Recreation employee. The Oregonian describes her here: "Diedrich, who died in 2007, was a colorful campaign leader with a cold-eyed opinion of English ivy. "Sometimes I think it's the devil," she told The Oregonian in 2004. "It's a very cunning, ruthless plant."
Read about how we banned the sale of ivy in Oregon here: https://www.oregonlive.com/business/2010/02/oregon_bans_sale_of_english_iv.html
**Thanks to Laura Nappi for the wonderful photos!