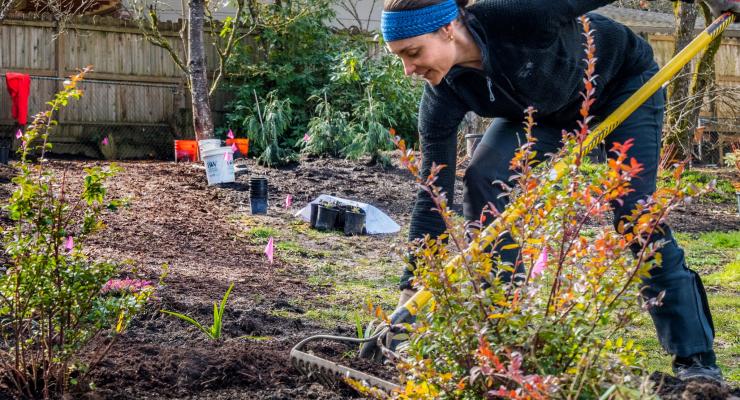 Stormwater Stars Workshops are Back!!
These hands-on events provide ideas on how to manage rain that falls around your home, school, workplace, or place of worship. You'll receive an overview of the best ways to handle stormwater issues, and get plenty of practice in restoring soils, naturescaping with native plants, creating porous pathways, and more!
FREE Stormwater Stars Workshops Fall 2020*
Sunday, September 13, 11am-1pm in Hayhurst Neighborhood
Friday, October 9, 1-3pm in Multnomah Neighborhood
Saturday, October 24, 9-11am in Maplewood Neighborhood
Sunday, November 1, Noon-2pm in South Portland Neighborhood
*Addresses provided upon registration, workshops limited to 10 participants

All are welcome at this family friendly event. For requests for physical, cultural, technological and/or any other accommodation, please contact us.
Pre-registration is required. You can learn more and sign up here: www.stormwaterstars.org. For questions, email watershed@swni.org or call 503-823-2862.
Stormwater Stars es un programa que ofrece ideas practicas sobre la lluvia abundante Eventos de otoño 2020*:
• Domingo, 13 de septiembre 11am-1pm, en el barrio de Hayhurst
• Viernes, 9 de octubre 1-3pm, en el barrio de Multnomah
• Sábado, 24 de octubre 9-11am, en el barrio de Maplewood
• Domingo, 1 de noviembre mediodía-2pm, en el barrio de South Portland
*Direcciones exactas se daran al registrarse Registrate: watershed@swni.org o 503-823-2862
Cosas que podemos hacer en nuestras casas. • Direcciones exactas se daran al registrarse Quitar cesped • Mejorar la tierra • Plantas nativas
• Caminos permeables • Reducir erosion ¡Todos son bienvenidos a este evento! Para preguntas o más información sobre el protocolo de seguridad Covid-19:
Articles available for download: