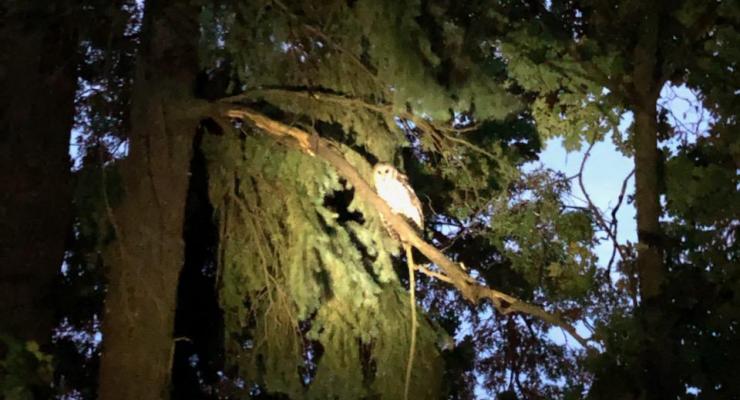 2019 Harvest Moon Social: Success!
Thanks to everyone who attended Friends of Terwilliger's 2019 Harvest Moon Social September 14th. The moon made a spectacular appearance but so did this Barred Owl. Eagle Point offered a wonderful vantage point to view this event.

About 50 Friends of Terwilliger attended our Harvest Moon Event. The first hour was spent socializing, while the sun was setting, and enjoying Dairy Hill ice cream sandwiches. A little after 8 PM we began to see a hint of red-orange color on the horizon at the north flank of Mt Hood. As everyone gathered on the top "tier" of Eagle Point, the Harvest Moon began ascending the eastern sky and making a fantastic showing. Cameras and a telescope were on hand to document this occurrence. While the weather forecast earlier in the week wasn't that positive, most of the clouds and all rain held off to allow us to have a great view of the moon. What wasn't planned was a visit and fly-over by this barred owl. Terwilliger Parkway still provides surprises, 107 years after the opening and dedication of this historic park.

Thanks to our partners: Portland Parks and Recreation, Homestead Neighborhood Assoc, and Dairy Hill. We couldn't have done it without you!