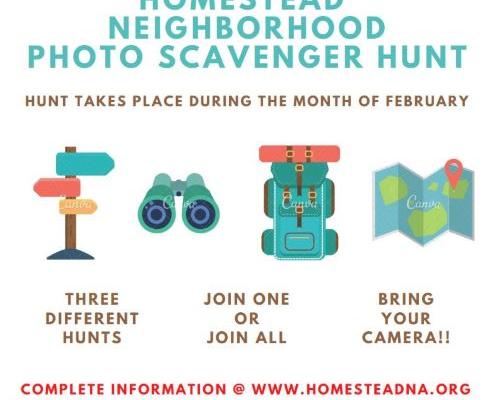 The Homestead 2021 Photo Scavenger Hunt Has been extended until March 31, 2021

Due to recent weather issues, the photo contest has been extended. You now have until March 31st to submit your photos and collect some good prizes!

Brought to you by: the Homestead Neighborhood along with partners Friends of Marquam Nature Park, Friends of Terwilliger, and Terwilliger Plaza.
There are 3 hunts to choose from – - taking you through our local streets and sidewalks, – celebrating the beauty of the parkway and– experiencing the beautiful scenic trails in our area.
The various hunts can be done at your own pace through the month of February. The rules are simple - select your hunt list (you may do all three) - photograph items on the list - enter and upload your photos on the homestead website. Those photographing all items on the list will have their names
entered in a drawing for prizes.
Some of the prizes are Friends of Terwilliger Socks, Fanny Pack from Friends of Marquam Nature Park, Amazon gift card, gift certificates from The Chart House and Ross Island Grocery, and lunch tickets from Thai Yummy.[An especially big Thank You to Thai Yummy for participating even after a recent and expensive break-in at this favorite food cart.]