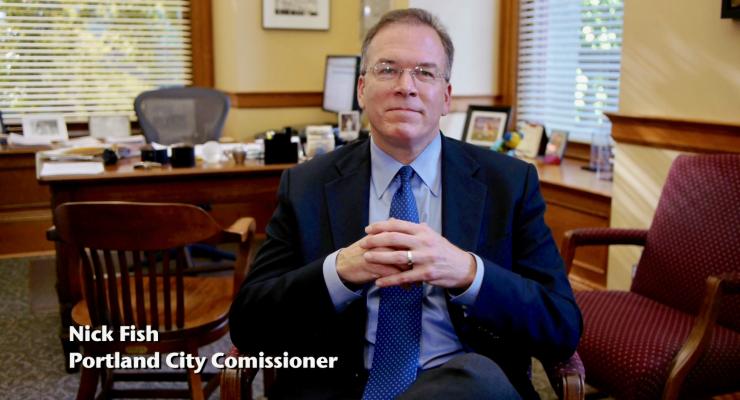 ** New date for Nick's memorial service Sunday, February 16th 3 PM!
Friends of Terwilliger would like to extend our condolences to Nick Fish's family, friends, co-workers, and staff.
Twice the City of Portland Commissioner in charge of Portland Parks and Recreation, Nick first worked with Friends of Terwilliger (FOT) in 2011 as we prepared for the Terwilliger Parkway Centennial Celebration. (This photo was taken during filming of our centennial video by Peter DeCrescenzo.) He lent his hand and the expertise of his staff to help us orchestrate 7 events over a 3-day weekend in July 2012 including the unveiling of the Terwilliger Parkway gateway sign at the northern-most entrance to this over 100-acre linear park. While we had some anxiety in the early days about bringing him up to speed regarding this natural area, we shouldn't have worried. Nick "got it." He thoroughly embraced the idea of protecting the natural character and function of this wildlife corridor and supported purchasing additional land to add to the Parkway. Over the past several years we identified and purchased 4 additional acres. Terwilliger Parkway is bigger than ever, and we thank Nick Fish for being a part of this.
Here's how you can help:

1. Join Friends of Terwilliger 15th 0900-1200 in the Terwilliger Parkway as we dedicate our native planting this month in his honor. Details here: http://terwilligerfriends.org/events
2. Join us for a public memorial service and celebration of Nick Fish, **at Portland State University's
3. Plant a tree, shrub or other native plant in your yard honoring Nick Fish.