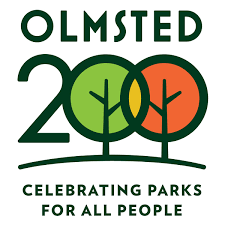 Olmsted's 200th Anniversary Proclamation Issued by Mayor Wheeler
April 26th was the 200th anniversary of famed landscape architect Frederick Law Olmsted's birthday.

Various lectures, symposiums, and discussions have been going on in 2022 to celebrate and call attention to the Olmsted family's prolific and groundbreaking work.
His sons, John Charles and Frederick Law Jr., carried on his work and worked in Portland on various projects starting in 1903. Most notable was their parks master plan for the city that recommended a "South Hillside Parkway" that became Terwilliger Parkway.

A proclamation issued by Mayor Wheeler and the Portland City Council perhaps sums up best the impact of the Olmsteds:
WHEREAS, Frederick Law Olmsted, Sr. fostered equitable access to parks for all people; and is considered the founder of the profession of landscape architecture was born on April 26, 1822; and
WHEREAS, Frederick Law Olmsted, Sr's. progressive social views, including his ardent support for the abolition of slavery, gave rise to public urban
landscapes that were intended for all regardless of color, wealth, or social standing; and
WHEREAS, Frederick Law Olmsted, Sr. created Central Park, Prospect Park and many other parks explicitly to provide opportunities for the poor and those lacking the means to escape the city a respite from urban life and to promote human health; and
WHEREAS, Frederick Law Olmsted, Sr. was an early contributor to the New York Times where he documented the evils of the institution of slavery in graphic detail in his work "The Cotton Kingdom"; and
WHEREAS, Frederick Law Olmsted, Sr. played a significant role in the creation of the National Park System, beginning with his advocacy to establish Yosemite National Park; and
WHEREAS, Frederick Law Olmsted, Sr. promoted parks as essential public infrastructure to promote a more healthful city and as a democratic space that creates community, and
WHEREAS, his son, John Charles Olmsted, a co-founder of the American Society of Landscape Architects, was brought to Portland in 1903 by the volunteer Park Board to develop a Portland park master plan; and
WHEREAS, his master plan reflected the same commitments to equitable access for everyone and to the creation of a comprehensive and interconnected system of parks, natural landscapes, parkways, and boulevards for human health and a healthy economy;
NOW THEREFORE I Ted Wheeler, Mayor of the City of Portland, encourage Portlanders to recognize and celebrate the 200th anniversary of the birth of Frederick Law Olmsted, Sr. and the contributions of John Charles Olmsted and the Olmsted firm to inspiring park, natural area and trail planning in the City of Portland and the metropolitan region.